Feedlot Cattle Trough ~ 5Mtr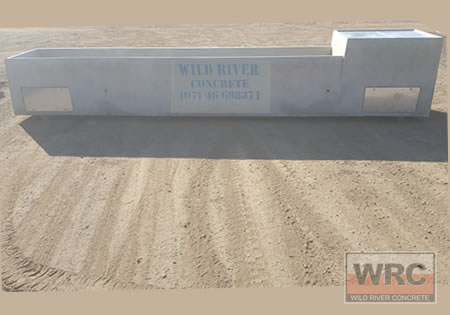 Specifications: Model FWT5FC
Length: 4995mm  ( 16'4″)
Width: 800mm (2'7.5″)
Height: 715mms (2'4″)
Weight: 2340kg
Volume: 750ltr (165 gal)
Inlet Size: 50mm (2″)
Outlet Size 75mm (3″)
Contact Us for Pricing
Key Features
The FWT5FC is a trough that comes with a fully enclosed concrete valve cover.

This takes away the worry of bored cattle playing with and eventually damaging float valves, which can lead to massive overnight water losses and lost wages on time spent fixing these issues.
WRC make a range of feedlot water troughs that have been manufactured in consultation with a number of feedlot operators. Cleaning feedlot water troughs is a constant job and ease of cleaning is important. We have designed our trough with a cleaning sump combined with our super smooth double vibrated 40MPA concrete. You can be assured that we provide a top quality product.
Image Gallery