Mid West Single Cattle Trough ~ 8 Ft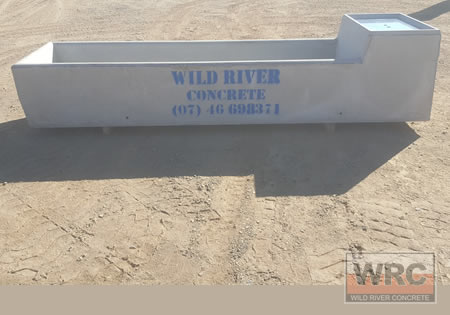 Specifications: Model L8C
Length: 2900mm  ( 9'8″)
Width: 790mm (2'7″)
Height: 490mms (1'7″)
Weight: 1090kg
Volume: 650ltr (145 gal)
Inlet Size: 50mm (2″)
Outlet Size 100mm (4″)
Contact Us for Pricing
Key Features
The L8C is the half version of the L16C.

The L8C weighs 1100kg and makes it easy to handle with a front end loader. These troughs like all the MidWest Series have their own built-in float cover with a convenient concrete lid.
WRC are the QLD manufacturer and distributor of Mid West Concrete Troughs. The range of long troughs can fit most applications from cattle, horses, sheep and goats. The built-in float protector gives the grazier peace of mind that livestock cannot damage float valves as they are contained in the float recess.
Image Gallery